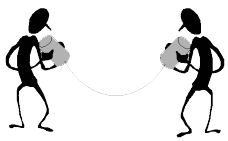 We are so blessed to have over 400 supporters around the area making financial donations, volunteering their services and time, and reverently praying for the Spanish Health Ministry. We like to keep everyone informed about the families we are assisting, the hope Christ has brought to many, and the blessing we are all receiving by way of the Spanish Health Ministry.
Additionally it is important to keep our healthcare professionals aware of what the Ministry offers potential families. We encourage Doctors and Nurses to refer those Hispanic Families in need to our Ministry. Our contact information is located on the "Contact Us" page, which you can see to the left. Or, you may simply send us an e-mail at shminc@gmail.com
Prayer Letters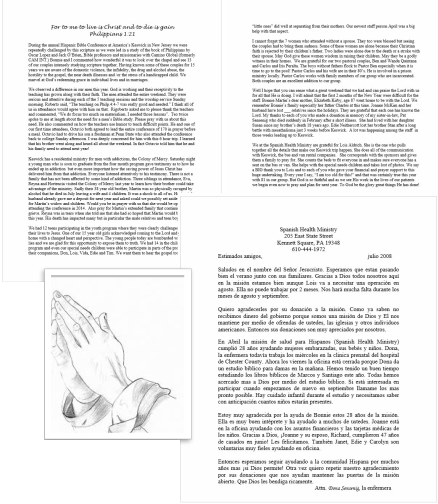 On a quarterly basis we communicate with all our supporters by way of a prayer letter.  Written by one of our staff members, we feature praise worthy news about the progress of our families and their children.  We also ask for prayers concerning those in special need of the healing power and love of God.  You may even find a place in which you could serve the Ministry.  If you would like to be added to our distribution list for our e-letter or a printed letter please fill out the form below.  If you select the e-letter you will be sent an e-mail with the latest prayer letter attached.
Prayer Letter Subscription
---
Good Friday
At the request of the women, Bible Study continues to meet every Friday, even on Viernes Santo. The women have a special gathering to read the Easter Story from the word of God and sing some of their favorite hymns.
Since it is a holiday, the children have off school. There is also a special program for them so that they, too, can learn the story of Jesus' death on the cross and the miracle of His resurrection.
Good Friday 2017 was a great day!  We know that over 70 children came and about the same number of Hispanic adults attended as well.  How exciting that was!  From preschool to teens to adults, every individual heard the Gospel and had the opportunity to respond.  Even though Good Friday is behind us, we pray that God continues to use the message they heard to impact their lives and change their hearts.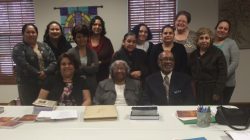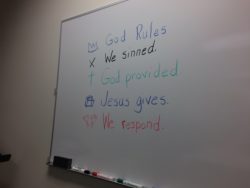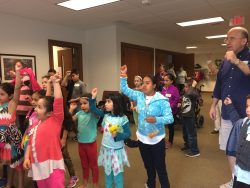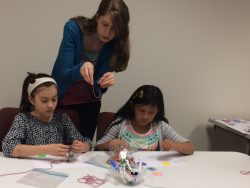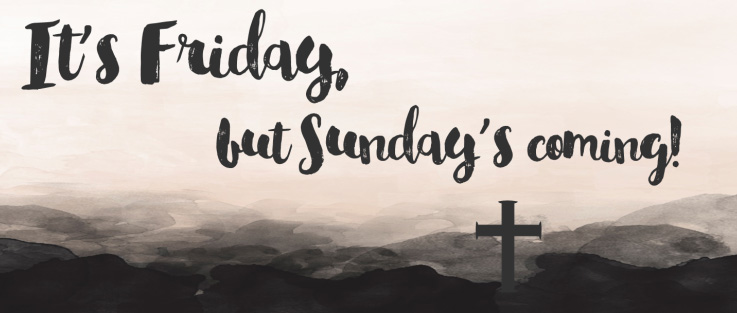 ---
Keswick Bible Conference
America's Keswick is located in Whiting, New Jersey. It is a Christian Ministry which holds conferences on their beautiful grounds to provide others with the opportunity for families to retreat from daily responsibilities and reconnect with God and each other. Through CAM International (Central American Mission) they also sponsor yearly Spanish Bible Conferences taught by Jack O'Brien and Patricio Paredes. This weekend not only teaches to the parents but also provides lessons and care to their children, ensuring ministry to everyone in the family. There are also many activities for the family to do together, such as biking, swimming, basketball and tennis.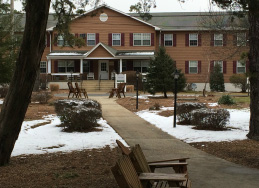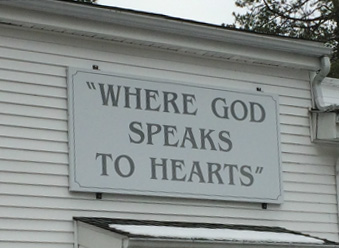 Keswick is also the location of the Colony of Mercy, a residential ministry for men who are recovering from addiction, such as alcohol abuse. The ministry encourages these men and their families to seek the Lord as the Source of hope and transformation in becoming free from bondage.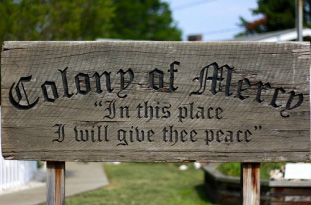 Our Experiences
During the month of January and February we begin to make preparations for the annual conference at Keswick.
The Spanish Health Ministry began to take small groups of Hispanic families in 1985. Since that time, God has grown the Ministry. In 2017, we had 26 Spanish families who attended the Keswick conference. Including our own volunteers and staff, that's a total of 98 people!
There are many responsibilities for our families to think about when leaving for our conference. First of all, there are matters at home which they must provide for in their absence, but also the responsibility of traveling with a special needs child and ensuring they have all the equipment and items necessary that their child requires, so that the child will be comfortable.
In order to respond to these needs, we drive two vans to carry our children in car seats. And, for our remaining family members, we hire a coach bus to provide room for items such as wheelchairs, which fit under the bus.
We also take along volunteers, who are responsible for child care for our children with special needs who require one-on-one care and would be unable to attend the large group children's programs without a volunteer companion.
We also take along our staff representatives who make themselves available to our families for spiritual discussion, reflection, follow-up, and fellowship.
Please join us in prayer for this year's Bible Conference weekend, March 2-4, 2018. We look forward to what God will do!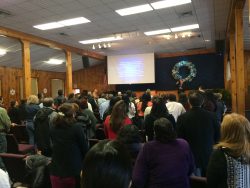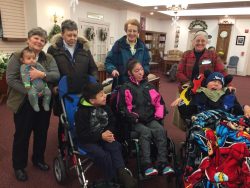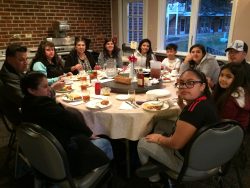 Our Sponsors
It is because of the generosity and faithful giving of many individuals that we are able to provide our families with this opportunity.
We are so thankful to all our sponsors who have provided funds to help these families pay for this weekend and who have committed to pray for them prior to and during the conference weekend.
Whenever a sponsor gives a donation of any amount they receive the names of a family to pray for during the conference along with a picture of the family and thank you letters from them upon their return home.

Anyone wanting more information about America's Keswick Conference Center may go to their website.
---
Men's Bible Study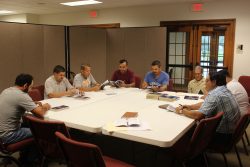 The Men's Bible Study, which began last April and is led by Jack O'Brien and Patricio Paredes, continues to meet biweekly on Friday evenings at our office.  They completed a series of spiritual goals for the year, and now they are doing a series on Jesus as Savior—His death, resurrection, and Second Coming.  Around 10 men attend the Bible Study.  The teenage sons of a couple of the men even come with their dads.  We continue to thank God that we are able to minister to the needs of the men.  We are also thankful to God for Jack and Patricio who make this possible. What a blessing to now be able to reach out to the whole family!
---
Ladies Bible Study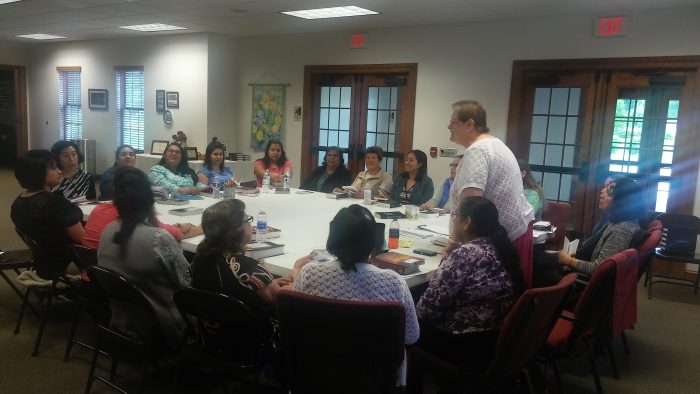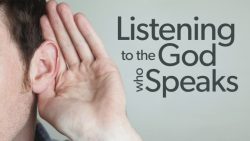 During the months of September through June, our Ministry meets together with Hispanic women in Chester County to study the Bible together in Spanish. They meet together on a weekly basis on Friday mornings from 9:30a.m.-12p.m. to pray and encourage one another. Through the support of faithful volunteers, there is transportation provided to this event for those who need a ride.  Child care is also available through the help of volunteers.  If you are interested in helping in this way, please contact Tabitha at 610-444-3001 for more information.
This year, rather than reading the Word, Dona and the ladies listened to various books of the Bible.  They listened to all of Genesis, Matthew, Acts, some of Romans, Ephesians, as well as Revelation.  The purpose in listening to these specific books was to get an overview of the Bible.
Feel free to check out this unique listening opportunity by clicking on the following link.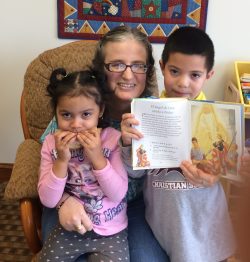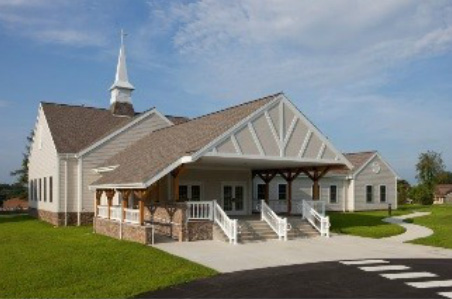 We are grateful to Grace Fellowship of Unionville for allowing us to use their facilities
for our weekly Bible Study.
---
Vacation Bible School


Vacation Bible School 2018
As in years past, Spanish Health Ministry will have a Vacation Bible Program with classes for all ages for the families we serve.  The program will take place at Grace Fellowship Church (922 Unionville Wawaset Road; Kennett Square, PA 19348).  To make this possible, volunteers are needed in the following areas: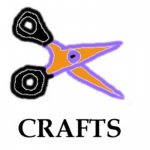 If you are interested in volunteering, please contact Tabitha for more details at: shminc@gmail.com or 610-444-3001.